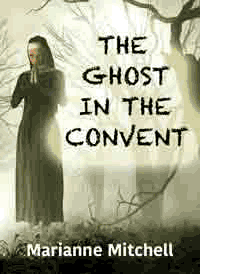 NEW!


For over fifty years an old convent has sat vacant and neglected. Now a developer wants to turn the grounds into a shopping center. But spirits from the past want a mystery solved before the wrecking ball swings.

What happened long ago when a young girl died there?

What happened to the nun who went looking for her?

Why does a young boy try to scare off intruders to the convent?

Twelve-year-old Jenna must find out what a certain ghost wants before something terrible happens to her father, the architect on the project.

Read the first chapter of THE GHOST IN THE CONVENT
---
"THE GHOST IN THE WOOD"
WINNER OF THE ARIZONA AUTHORS ASSOCIATION 2015 LITERARY CONTEST
FIRST PRIZE - CHILDREN'S LITERATURE
Twelve-year-old Zeke is not thrilled when his dad announces they're moving into an old cabin in the Colorado mountains. He's sure life will be boring stuck out in the woods.
But he's so wrong.
When Zeke handles pieces of lightning-struck wood, he releases the ghost of a boy who was killed in a tree house fifty years before. Now the ghost is demanding attention, causing harm to Zeke's family and looking for justice.
It's up to Zeke to solve the mystery behind the boy's death and give the ghost peace.
FIREBUG is now available as an ebook from Boyds Mills Press!

Get it today for Kindle, Nook, or Kobo.

More outlets are coming soon.
---
Copyright © 2016 by Marianne Mitchell. All rights reserved.