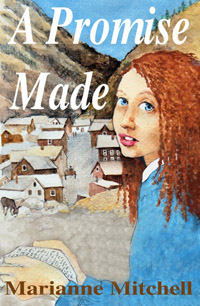 A "riveting dramatic read, much recommended."
Michael J. Carson, Midwest Book Review.

A "moving, exciting, and realistic story."
Penny Leisch, Story Circle Book Reviews.
READ THE REVIEW

Silver Plume, Colorado is the end of the line and the beginning of a new life for sixteen-year-old Petra. After fleeing her abusive stepfather, she must learn how to fend for herself, keep her promises and confront her worst fears.

"A PROMISE MADE"
is available as an ebook and a paperback from Amazon.